Lexar Professional UDMA 300X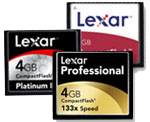 CompactFlash Storage Cards(CF)
2GB.....$43.95
4GB.....$74.95
8GB.....$149.95
16GB...$239.95
Lexar Professional 133x SDHC

Platinum II Secure Digital Cards
1GB.................$12.50
2GB.................$18.50
4GB (SDHC).....$27.75
8GB (SDHC).....$46.50
16GB (SDHC)...$82.50
JumpDrive Lightning 120X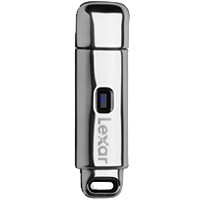 JumpDrive Lightning is Lexar's premium JumpDrive product offering the highest speed, distinctive design in a stylish stainless steel case, and value-added software features. It is ideal for business professionals, power users or anyone looking for high performance and style in a portable storage solution.
2GB..........$34.99
Professional UDMA Dual-Slot USB Reader
Product Highlights
•High-speed file transfer
•Compact, portable design
•Reads UDMA CompactFlash®, standard CF, Secure Digital High Capacity (SDHC™), and SD™ cards
•Folds closed to protect card slots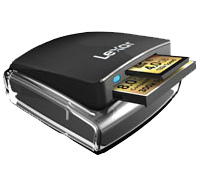 •Two-year limited warranty
Price:.....$43.95
To Order Phone, Fax or E-mail KPS for prompt service.
Last Update 11-17-2008.

Call Customer Service 610-821-0551. KPS your Digital Headquarters for Storage cards and more.