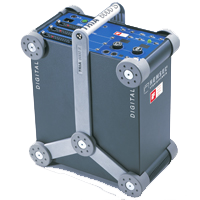 Hensel TRIA 6000S 6000 J maximum power output and asymmetrically distributed though three outlets. Power output is adjustable in 1/10 of a stop increments over a six stop range with digital rotary switches that have notched stops. The Hensel TRIA system has the most accurate repeatability of power on the market as well CTC - technique for optimized color temperture accuracy. Flash duration of up to 1/800 with EH PRO 3000 Flash head, 1/2500 with EH PRO 3000 Speed Head.
Multi-voltage self sensing worldwide - just plug it in and it knows. Extremely sensitive built in slave which will be triggered by the lowest light, or infrared trigger. Packs can be set to slow or fast recycle so the TRIA can be used on most an circuit. Flash check knows if you have a head that is improperly firing. Automatic dumping of power as well. Hensel's unique design has won many design awards.
Price: $4,426
To Order Phone, Fax or E-mail KPS for Prompt Service.
Last Update 11/16/09.

Call Customer Service 610-821-0551.