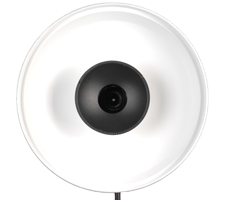 22" Beauty Dish NEW The 22" ACW Beauty Dish aluminium reflector transforms the hard, directional light of the ring flash into a soft, extremely wide-angle radiating light. Shadow-free lighting from the camera axle with typical ring flash reflections becomes child´s play. Whether you´re outdoors or in the studio - it is ideal combined with the HENSEL Studio Packs, Integras, or Porty Packs.
Price: $562
.
To Order Phone, Fax or E-mail KPS for Prompt Service.
Last Update 11/23/09.

Call Customer Service 610-821-0551.