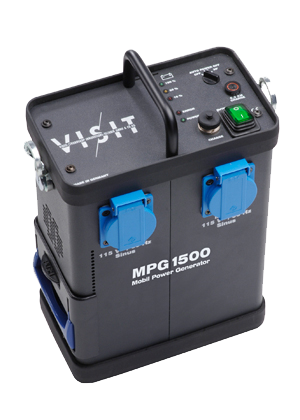 VISIT MPG 1500 AC power voltage anywhere you want it
In the past, heavy and expensive generator sets were necessary to produce AC power on location but not anymore! The VISIT MPG 1500 inverter is the lightest mobile power generator available.The Mobile Power Generator measures only 9 x 5.3 x 12.8 in. (LxWxH) and is astonishingly powerful for its size! It has two outlets which allow for the operation of a maximum of 2 x 500 J flash devices or 1 device with 1000 J and 1 device with 500 J of flash power. Of course, other electrical devices, such as laptops or personal computers can also be plugged in. The only requirement is that power consumption should not be too high (max. 300W).
A quickly replaceable battery drawer with a lead gel battery and no inconvenient memory effect serves as a power supply. With this system, a 500 J device can yield approximately 130 flashes at full power. If a modelling light is being used, the number of flashes is reduced. Additional battery drawer increase the capacity accordingly and can be changed in seconds, thanks to the brilliant battery drawer system. In total, there are three possible ways of charging the batteries: By means of a charger connected to the mains at any power outlet (110 V – 240 V, automatic selection) or with the VISIT Car Adapter on all normal 12 V car batteries. Alternatively, the device can be charged using the VISIT Car Charger on the car cigarette lighter socket or by means of a 12 V electrical outlet.
Price: $1,068
.
VISIT MPG 1500 KIT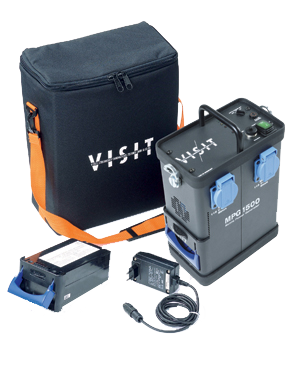 1 - MPG 1500 inverter ( 977)
1 - Additional battery tray ( 1496 )
1 - Mains charger (multivoltage) ( 5670)
All items contained in a back pack style soft case.
Price: $1,222
.
.
.
.
.
.
To Order Phone, Fax or E-mail KPS for Prompt Service.
Last Update 11/18/09.

Call Customer Service 610-821-0551.