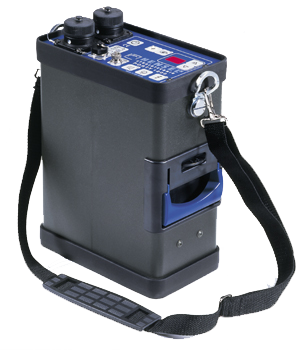 Porty 1200B 1200 J maximum power output and symmetrically distributed though two outlets. Power output is adjustable in 1/10 of a stop increments over a six stop range.
Batteries can be exchanged in seconds with the battery drawer quick release and handle system. Automatic power bleed for power reduction without having to fire the pack. Built in slave. Water resistant control panel with fluoresant touch pad. Caps to seal off all unused power and sync sockets against dust and water. Lead gel batteries with no memory. Batteries are good for 100 full power flashes. Batteries can be recharged with either the multi voltage Quick charger in 2.5 hours, or with the Premimum charger which can also be used to give AC capabilities for studio use. Batteries can be recharged inside or outside of the power pack.
Price: $1,688
To Order Phone, Fax or E-mail KPS for Prompt Service.
Last Update 11/18/09.

Call Customer Service 610-821-0551.