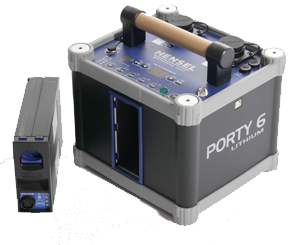 Hensel Porty 6 New lithium technology has allowed HENSEL to re-engineer the Porty for today's photographer. Now smaller, lighter and more efficient the Porty 6 Lithium gives you 450 pops at 600 watt/secs. while weighing only 12 pounds. Featuring a recycle speed of .95 sec from 0 to 600 Joules you won't miss a shot. Still with all the features you love from the PORTY Premium Plus: Able to power 2 heads with asymmetrical power ratios of 1:1, 1:2 and 1:3, Digital processors ensure your power is up to speed before you fire, 1/10th of a stop increments for power changes and the auto timer feature can be customized for your shooting temperment.
New features include full stop jumps of power at the touch of a button and the built in receiver is now integrated into the handle preventing loss and breakage. The batteries now weigh only 2.5 pounds and feature a built in charge indicator. This pack is compatible with the Hensel Strobe Wizard (3950) with its fast, 4-channel radio-control triggering. 3 adjustable channels, an all-channel function, modeling light control and power adjustment providing sync times of up to 1/250 s.
Specifications
* Recycle at full power .95 sec
* 450 pops at full power: 15,000 at lowest power
* Flash Durations of 1/2500 using the EH Pro MINI P Speed Head at 600 Joules 1/8100 at 37 Joules
* Measurements: (L x W x H): 8.86 x 7.8 x 8048 in.
* Weight: approx. 12 lbs
* Battery Weight 2.5 pounds
Price: $3,006
To Order Phone, Fax or E-mail KPS for Prompt Service.
Last Update 11/16/09.

Call Customer Service 610-821-0551.