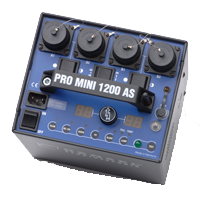 Hensel Pro Mini 1200 Hensel Studiotechnik, innovator in digital strobe gear, has developed a new PRO MINI power pack with small and powerful EH PRO MINI flash heads. The two elements give the photographer a set of strobes geared toward travel and easy transport. With itís small design and digital controls the PRO MINI gives the photographer all the advantages of Henselís TRIA studio packs.
In spite of its small size, the generator provides symmetric or asymmetric power distribution, load switching and radio remote control in addition to the usual HENSEL features. Asymmetric control gives great creativeness in lighting and the use of several flash heads on a single generator.
Capacitor circuits ensure quick flash durations and a very stable color temperature over the whole control range of the generator. In conjunction with high performance electronics, this allows for a much greater power range of 37,5 J to 1200 J, adjusted in 1/10 f-stop increments.
This pack has a built in receiver for the HENSEL radio transmitter with its fast, 4-channel radio-control triggering. 3 adjustable channels, an all-channel function, modeling light control and power adjustment provide comfort in the studio with sync times of up to 1/250 s.
The even more powerful Pro Mini 2400 generator is expected in early 2008. Measurements: (L x W x H): 17.6 x 21.3 x 25 cm; weight: approx. 5.3 kg. Scope of delivery: power cable & sync cable
Price: $1,572
To Order Phone, Fax or E-mail KPS for Prompt Service.
Last Update 11/16/09.

Call Customer Service 610-821-0551.